توضیحات
Body type
Body type
Mid-size SLR
Sensor
Max resolution
۵۴۷۲ x 3648
Other resolutions
۳۶۴۸ x 2432, 2736 x 1824, 1920 x 1280, 720 x 480
Image ratio w:h
۳:۲
Effective pixels
۲۰

megapixels

Sensor photo detectors
۲۱

megapixels

Sensor size
Full frame (36 x 24 mm)
Sensor type
CMOS
Processor
Digic 5+
Image
ISO
Auto, 100 – 25600 in 1/3 stops, plus 50, 51200, 102400 as option
Boosted ISO (minimum)
۵۰
Boosted ISO (maximum)
۱۰۲۴۰۰
White balance presets
۶
Custom white balance
Yes
Image stabilization
No
Uncompressed format
RAW
JPEG quality levels
Fine, Normal
Optics & Focus
Autofocus

Contrast Detect (sensor)
Phase Detect
Multi-area
Selective single-point
Single
Continuous
Face Detection
Live View

Manual focus
Yes
Number of focus points
۱۱
Lens mount
Canon EF
Focal length multiplier
۱

×

Screen / viewfinder
Articulated LCD
Fixed
Screen size
۳

″

Screen dots
۱,۰۴۰,۰۰۰
Touch screen
No
Screen type
Clear View II TFT LCD
Live view
Yes
Viewfinder type
Optical (pentaprism)
Viewfinder coverage
۹۷

%

Viewfinder magnification
۰٫۷۱

×

Photography features
Minimum shutter speed
۳۰

sec

Maximum shutter speed
۱/۴۰۰۰

sec

Aperture priority
Yes
Shutter priority
Yes
Manual exposure mode
Yes
Subject / scene modes
Yes
Built-in flash
No
External flash
Yes

(Hot shoe)

Continuous drive
۴٫۵

fps

Self-timer
Yes

(2 or 10 sec)

Metering modes

Multi
Center-weighted
Spot
Partial

Exposure compensation
±۵ (at 1/3 EV, 1/2 EV steps)
AE Bracketing
±۳ (۲, ۳, ۵, ۷ frames at 1/3 EV, 1/2 EV steps)
WB Bracketing
Yes

(3 frames in either blue/amber or magenta/green axis)

Videography features
Resolutions
۱۹۲۰ x 1080 (29.97, 25, 23.976 fps), 1280 x 720 (59.94, 50 fps), 640 x 480 (25, 30 fps)
Format
H.264
Videography notes
۱۰۸۰ and 720 intra or inter frame, 480 inter frame
Microphone
Mono
Speaker
Mono
Storage
Storage types
SD/SDHC/SDXC
Connectivity
USB
USB 2.0 (480 Mbit/sec)
HDMI
Yes

(HDMI Mini)

Microphone port
Yes
Headphone port
No
Wireless
Built-In
Remote control
Yes

(Remote control with N3 type contact, Wireless Controller LC-5, Remote Controller RC-6)

Physical
Environmentally sealed
Yes

(Splash and dust resistant)

Battery
Battery Pack
Battery description
Lithium-Ion LP-E6 rechargeable battery & charger
Battery Life (CIPA)
۱۰۹۰
Weight (inc. batteries)
۷۷۰

g

(1.70

lb

/ 27.16

oz

)
Dimensions
۱۴۵ x 111 x 71

mm

(5.71 x 4.37 x 2.8

″

)
Other features
Orientation sensor
Yes
Timelapse recording
Yes

(by cable and PC)

GPS
Built-in
GPS notes
Image tagging and tracking modes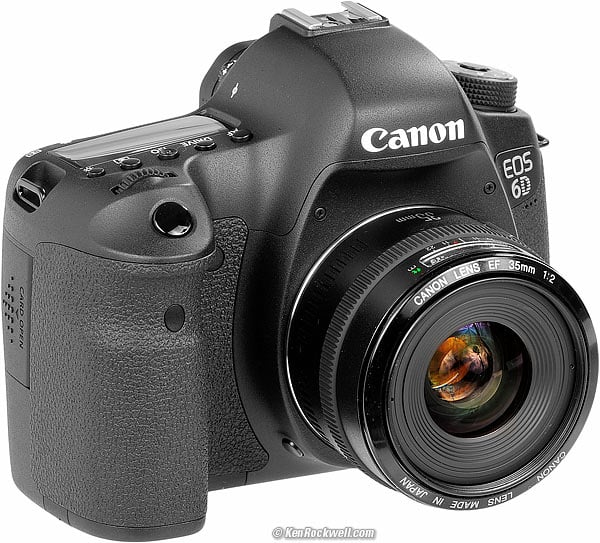 Canon 6D (26.8 oz./760g with battery and card, about $1,399 after instant rebate) and Canon EF 35mm f/2. enlarge. I got mine from Adorama (or kit with lens), and it also comes from Amazon (or kit with lens) and from B&H (also with lenses).
My biggest source of support for this free website is when you use those or any of these links when you get anything, regardless of the country in which you live. It helps me keep adding to this free website when you get your things through these links — but I receive nothing for my efforts if you buy elsewhere. Thanks for your support! Ken.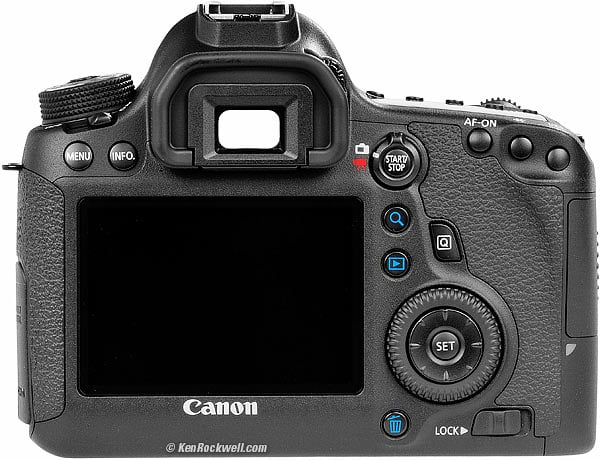 Back, Canon 6D. enlarge.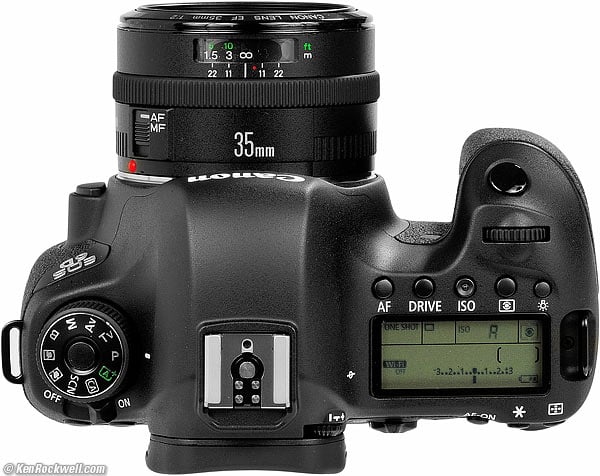 Top, Canon 6D and Canon EF 35mm f/2. enlarge.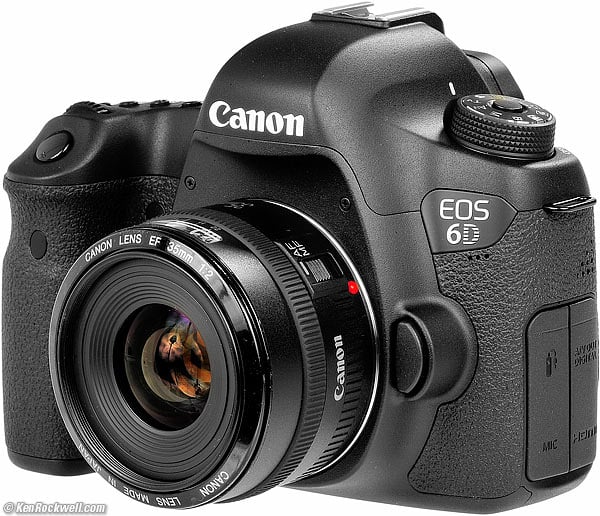 Top, Canon 6D and Canon EF 35mm f/2. enlarge.
September 2015   Canon Reviews   Canon Lenses   All Reviews
Plain-English Canon 6D User's Guide
۲۰۱۲ Full-Frame DSLR Comparison.
Introduction      top
Intro   Specs   Accessories   Lenses   Performance   
Compared   Usage   Recommendations   More
The Canon EOS 6D is the world's smallest and lightest full-frame DSLR.
The Canon 6D is the world's second-best DSLR regardless of price, right behind the very similar Canon 5D Mark III. If you're in the market for a full-frame DSLR for ultimate technical quality and super-fast autofocus for action, but don't want to pay extra for (or carry the weight of) the 5D Mark III, the 6D is about 95% of the 5D Mark III for a lot less money. I own both, and see and feel very little difference between them. (I also own the Nikon D600, which is inferior).
Even if the price was the same, the reduced weight of the 6D often makes it a better choice for carrying all day. Technical image quality is extraordinary and the same as the 5D Mark III; megapixels mean nothing today, and the 6D looks great even shot at ISO 25,600. With the 6D, you need not spend extra for fast lenses, and with automatic lens aberration correction, cheap lenses that didn't look very good on older cameras like the old 5D Mark II now look stunning when used properly on the 6D.
At only 26.8 oz. (760g), the 6D weighs 7 oz. (200g) less than the 5D Mark III and 3.3 oz. (95g) less than the Nikon D600. The Nikon D600 is inferior, with worse handing, more weight, cheaper build and poorer color rendition, as I'll cover below.
Added from 5D Mark III
GPS.
Wi-Fi for almost everything except replacing a card reader. You can view and email images directly from your smart phone, and control the 6D remotely, all with a free app.
UHS-1 SD card compatible.
Interchangeable focus screens, especially the optional Eg-S super-precision manual-focus screen for use with fast lenses.
Improved from 5D Mark III
Slightly more sensitive central AF sensor in low light.
I prefer the simpler AF system of the 6D. Neither camera has face recognition in its AF system, so the extra AF zones of the 5D Mark III don't do much other than complicate the system beyond all recognition.
Play, Zoom and Delete buttons moved to the right side for one-handed shooting.
Slightly better battery life: rated 1,090 versus 950 shots per charge.
Lost from 5D Mark III
۱۱, not 61, AF zones.
Only one SD card slot.
Only C1 and C2 memories, no C3.
Finder grid requires using Live View, or an optional Eg-D finder screen.
No M-Fn button by the shutter button.
Slightly smaller LCD has plastic, not glass, cover and lacks auto brightness control.
No way to reset file number prefix; files always start with IMG. (I wish I could reset it to KEN or 6D.)
Only 1/4,000 top speed and 1/180 sync, versus 1/8,000 and 1/200 (no big deal).
$۱,۴۰۰ less expensive and 7 oz./200g lighter.
I wish that while playback was zoomed and scrolled, that the SET button would bring you back to the center of the image. (The 5D Mark III doesn't do this either.)
The Same
Everything else, especially metering, resolution, high ISO performance and image quality, is essentially identical. The slight differences in some specifications are used to try to help upsell rich people into the more expensive 5D Mark III; they aren't significant. The battery and charger are the same, too.
No, I'm not going to waste your time showing side-by-side shots. I have real work to shoot, so no time to waste presenting things that are the same. Each of the 5D Mark III and the 6D look great even at ISO 25,600, and those of us who actually shoot realize that ISO 25,600 is enough to shoot the sky at night hand-held with an f/4 lens, so both have many stops more sensitivity than needed for real photography. Camera makers are going to need to invent another specification on which to compete.
See Canon 6D versus 5D Mark III for more.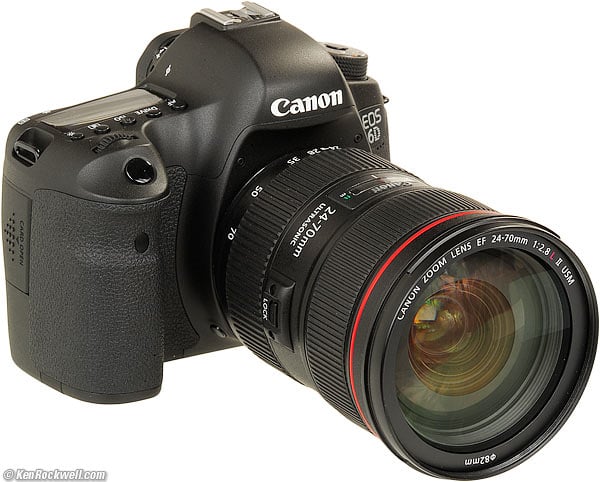 Canon 6D and 24-70mm f/2.8 L II. enlarge.
Specifications      top
Intro   Specs   Accessories   Lenses   Performance   
Compared   Usage   Recommendations   More
Sensor
۲۴ x 36mm (actually 35.8mm x 23.9mm) full-frame CMOS.
۵,۴۷۲ x 3,648 pixels native.
۲۰ MP CMOS.
۶٫۵۵ µm pitch.
Sensor cleaner.
ISO 100 ~ 25,600 (also whacko modes at ISO 50, ISO 51,200 and ISO 102,400).
۱۴-bit converters.
sRGB or Adobe RGB.
Image Sizes
No cropping ability for professional 5:4 or other aspect ratios.
۵,۴۷۲ x 3,648 native, JPG or RAW (20 MP).
۳,۶۴۸ x 2,432 JPG Medium (9MP).
۲,۷۳۶ x 1,824 JPG Small 1 (5 MP).
۱,۹۲۰ x 1,280 JPG Small 2 (JPG FINE only, 2.5 MP).
۷۲۰ x 480 JPG Small 3 (JPG FINE only, 350 kP).
M-RAW: 4,104 x 2,736.
S-RAW: 2,736 x 1,824.
Video      top
ISOs to ISO 12,800.
Embedded time code.
۱,۹۲۰ x 1,080 at 29.97p, 23.976p or 25p.
۱,۲۸۰ x 720 at 59.94p or 50p.
۶۴۰ x 480 at 59.94p or 50p.
۴ GB automatic file partitioning (continuous recording time 30 minutes).
Selectable all I-frame (bigger files for more precise editing) or I-P-B (smaller files) compression.
HDMI output (but no uncompressed live HDMI as do the newest Nikons).
Analog PAL or NTSC video output.
Audio (only with video)      top
Mono mic.
Stereo mic jack.
Auto and Manual audio recording level control.
Mono speaker.
Finder      top
۹۷% coverage.
۷۱% magnification.
۲۱mm eyepoint.
-۳ to +1 diopters.
۳۳٫۳º apparent angle.
Interchangeable focus screens: Eg-A II provided. Interchangeable with Eg-D screen(grid) and Eg-S (special super-precision manual-focus screen for fast lenses). Incompatible with the older Eg-A from the 5D Mark II.
Electronic Level      top
Yes.
Autofocus      top
No AF illuminator.
Movies
No continuous AF, as a camcorder can do.
Still Images
All this below is only for still photos:
۱۱ AF points:
Center: cross-type at f/5.6; vertical line-sensitive at f/2.8.
Upper and lower AF points: vertical line-sensitive AF at f/5.6.
Other 8 AF points: Horizontal line-sensitive AF at f/5.6.
Center AF point rated to work from LV -3 ~ 18 at 73°F (23°C), others from LV 0.5.
No EOS iTR (Intelligent Tracking and Recognition), so it can't recognize subjects based on face and color as can the 1D X.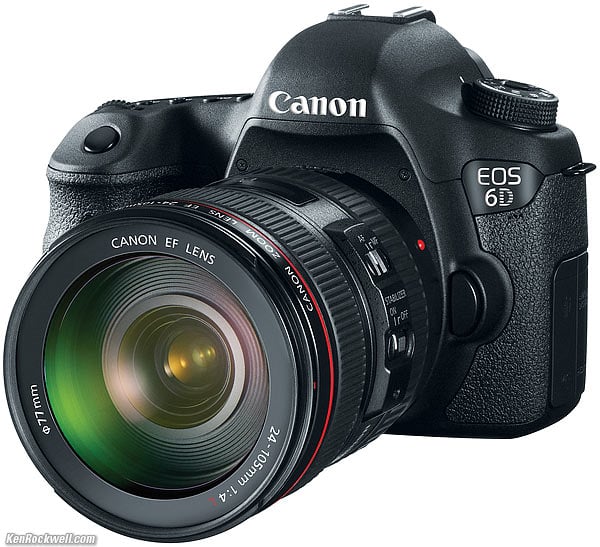 Canon 6D and 24-105mm. enlarge.
Light Meter      top
Range: LV 1 or 1 to 20 at 73°F (23°C) with 50mm f/1.8 lens.
۶۳-zone dual-layer meter. "Dual Layer" means it can't even see in full color; the 6D's an 5D Mark III's meters only see in warm and cool. Nikons have had 1,005 pixel full-color RGB meters since 1996.
The number of zones is irrelevant, what the firmware does with this data to determine exposure is far more important. My LEICA M9 only has one zone metering, and is more accurate than my Nikons or Canons, so what do you think about that, eh? Metering zones are irrelevant.
Flash      top
No built-in flash.
Flash Sync is 1/180, which is within a half stop of 1/250.
No PC sync terminal; use a hot-shoe adapter.
E-TTL II exposure control works with all EX-series flashes.
Shutter      top
۴٫۵ FPS (fast) and 3 FPS (slow).
"Silent" 3 FPS mode.
Rated 100,000 shots.
۱/۴,۰۰۰ ~ ۳۰ seconds.
Sync is 1/180.
Buffer
۷۳ JPG, 14 RAW, 7 RAW+JPG with slow card.
۱,۲۵۰ JPG, 17 RAW, 8 RAW+JPG with fast UHS-1 card.
Remote
RC-6, also RC-1 and RC-2 remotes work.
Data File & Folder Formats      top
Photos
JPEG
RAW (14-bit Canon Original)
M-RAW
S-RAW
RAW+JPEG
M-RAW+JPEG
S-RAW+JPEG
Video
.MOV files holding:
Picture: H.264/MPEG-4 AVC coding.
Audio: 48 ksps 16 bit Linear PCM coding.
GPS      top
Tags image locations.
Sets clock.
Can record a track log file.
Wi-Fi      top
With a smart phone app, allows one to see and email the images from your card. Also allows remote camera control, replacing the WFTs of older cameras, and more!
Storage      top
One SD slot, only.
SD, SDHC, SDXC and UHS-1.
LCD      top
۳″ (۷۷mm) diagonal; 63.7mm x 42.5mm.
۳:۲ aspect ratio.
۱,۰۴۰,۰۰۰ dot.
Manual brightness control only.
Coated plastic cover.
Power      top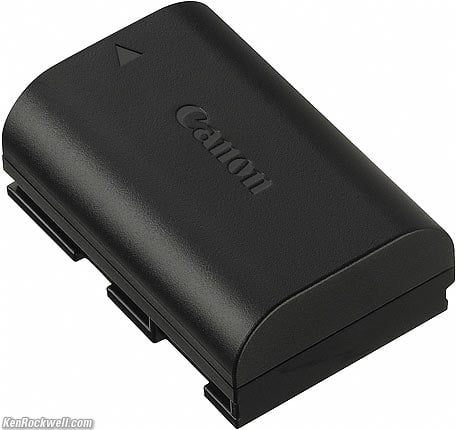 LP-B6 Battery.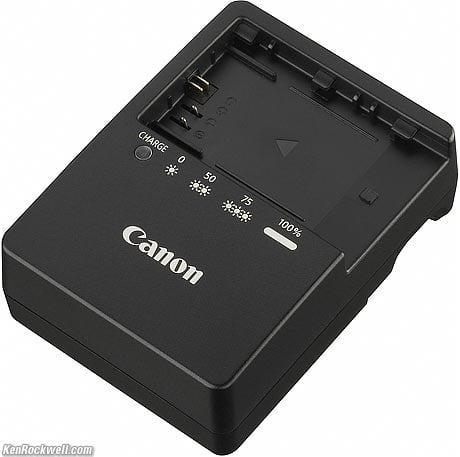 LC-E6 Charger.
LP-E6 Li-ion battery: 7.2V, 1,800mAh (same as 5D Mark II and 5D Mark III).
Rated 1,090 shots @ 25ºC (73ºF).
LC-E6 folding plug universal voltage charger.
Internal rechargeable battery for for clock.
Mechanics      top
Magnesium-alloy body.
Plastic top cover; the GPS and Wi-Fi antennas need to see the outside world.
Quality      top
Made in Japan.
Power adapter, cables and other fluff made in China or elsewhere.
Environmental      top
۳۲ ~ ۱۰۴°F (0 ~ 40°C).
۰ ~ ۸۵% RH.
Size      top
۵٫۷ x 4.4 x 2.8 inches.
۱۴۴٫۵ x 110.5 x 71.2 millimeters.
Weight      top
۲۶٫۸۲۵ oz. (760.4 g) measured with card and battery.
Rated 26.7 oz. (755 grams) with battery and card.
Rated 24.0 ounces (680 grams) stripped.
Includes      top
۶D Body.
Eyecup Eb (as in E flat?).
Wide Neck Strap EW-EOS 6D.
Camera Cover R-F-3.
Stereo A/V Cable AVC-DC400ST.
USB Interface Cable IFC-200U.
Battery Charger LC-E6.
Battery Pack LP-E6.
Software Disk.
Software Instruction Manual on CD.
Canon 1 Year Limited Warranty
Real printed manuals: one in English, otro en Español.
Announced      top
۱۷ September 2012.
Promised for, and delivered by      top
December 2012.
Price, USA      top
$۱,۳۹۹ after rebate, September 2015 ~ March 2016.
$۱,۴۹۹ after rebate, Christmas 2014 through most of 2015.
$۱,۲۴۹, Cyber Monday 2014.
$۱,۹۹۹, September 2013.
$۲,۰۹۹ body-only, $2,899 with 24-105mm in late 2012. Went lower that Christmas.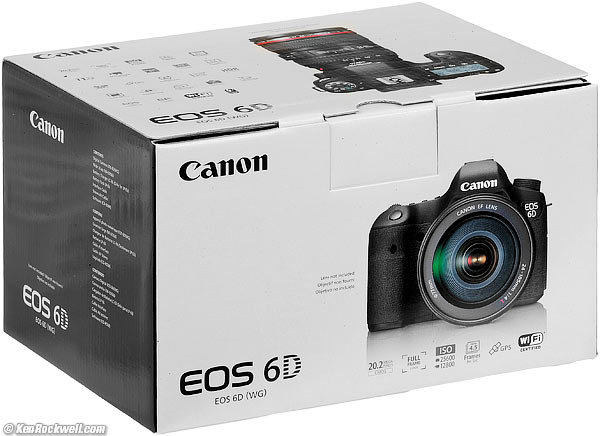 Box, Canon 6D. enlarge.
Optional Accessories         top
Intro   Specs   Accessories   Lenses   Performance   
Compared   Usage   Recommendations   More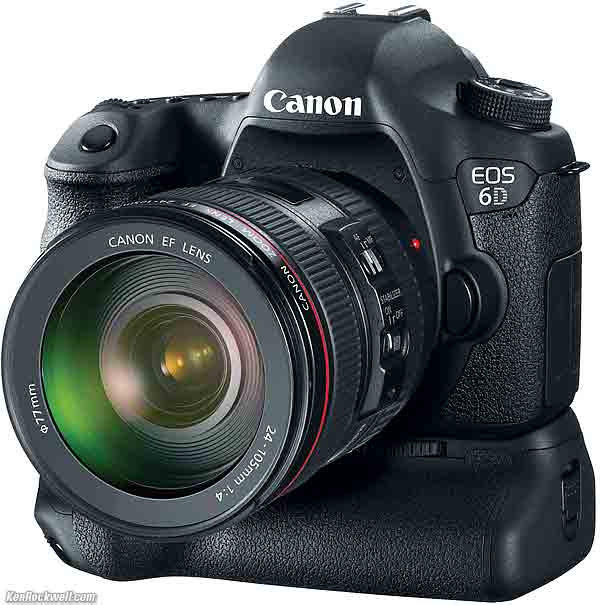 Canon 6D with BG-E13 grip and 24-105mm IS L. enlarge.
Eg-D (grid) and Eg-S (fast lens) focus screens.
Lenses         top
Intro   Specs   Accessories   Lenses   Performance   
Compared   Usage   Recommendations   More
The 6D uses all Canon EOS EF lenses, meaning all Canon lenses made since 1987. It won't work with EF-S lenses intended only for 1.6x sensor cameras, but that's it. If you find an old Canon autofocus 35mm camera in your closet, the lenses work great on the 6D.
I'd suggest using lenses made since about 1992 for which Canon provides lens correction data, because with these lenses the 6D can correct dark corners and corner color fringes right in the camera, making even cheap old lenses perform spectacularly.
The 6D has the same lens correction correction as the 5D Mark III. Read more about using lens profiles.
If buying a new set of lenses, the 24-105 IS that Canon offers as a kit at a huge discount is a spectacular lens, so I'd get it. For smart people, it ought to be the only lens you ever need. With the crazy-high ISOs of the 6D, you don't need anything faster than f/4 to shoot in any light.
If you want a wide lens, the 17-40mm is the most sensible. The 16-35mm f/2.8 L II is bigger, heavier and more expensive, but no sharper.
Personally, I prefer the new 24-70/2.8 L II over the 24-105 IS because I prefer the way the zoom ring feels, but most people probably don't want to pay that much — although expensive lenses are always a good buy.
For a tele, just crop, but if you insist, I prefer my 70-200/4 IS for its smaller size. If I need f/2.8, I prefer the mechanical build quality (and price) of the classic 80-200/2.8 L. If you want more reach, I suggest the 70-300mm IS. It's inexpensive, optically great, but it's a little plasticy, and therefore lightweight.
Performance         top
Intro   Specs   Accessories   Lenses   Performance   
Compared   Usage   Recommendations   More
See also a day's worth of sample images here.
Overall
For most people who don't need the second card slot for backup, the 6D replaces the world-best 5D Mark III, and even improves on what was the already world's best DSLR ergonomics in some ways.
The 6D betters the 5D Mark III because the PLAY and ZOOM buttons are now where we can hit them with our shooting thumb. No longer are they on the wrong side, demanding a second hand, as they are on the 5D Mark III (I program my 5D Mark III to work around this).
All the Auto ISO options (and pretty much everything) are the same as the 5D Mark III. The LCD lacks auto brightness control, and it otherwise the same awesome screen: the best in any DSLR.
The 6D is just as toughly built as the 5D Mark III, just a little smaller, a little lighter and a lot less expensive. The 6D's AF system is the better, simpler 9-point one from the earlier cameras. It just goes!
The 6D adds GPS and Wi-Fi over the 5D Mark III.
Thus the 6D handles and feels just like the 5D Mark III (with a few improvements), has the same great LCD (just imperceptibly smaller) and tech image quality, and costs a whole lot less.
Finder
The finder is great. I don't notice any difference with its rated 97% coverage versus other cameras rated at 100%. The 97 or 100 ratings are just to try to shame people into paying more for the 5D Mark III.
The finder's digital display's backlight has a PWM to control brightness, automatically optimized to ambient light.
The standard screen is optimized for lenses of f/2.5 or slower. Faster lenses won't seem any brighter, unless you get a different interchangeable focus screen optimized for them.
Unlike the 5D Mark III's fixed screen, there are optional Eg-D (grid) and Eg-S (fast lens) screens for the 6D.
Autofocus
Hallelujah, Canon brought back its proven 9-point AF system that just goes. It's fast and dead-on.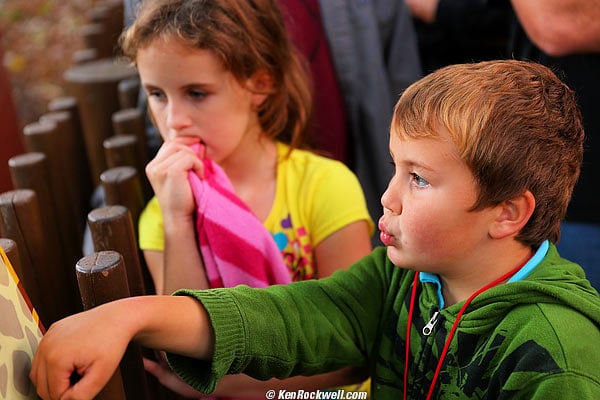 Ryan at Legoland, 08 December 2012. 6D, 24-70 2.8 II at 61mm and f/2.8, 1/50 at Auto ISO 320. original © file.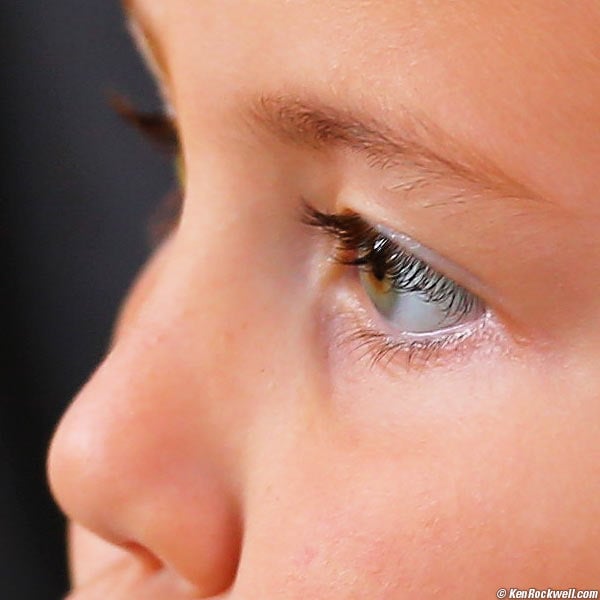 Crop from above image at 100%. Tight focus, eh? If this is 6″ (15cm) on your screen, the entire image would be 55 x 36″ (140 x 90 cm) printed at this magnification. original © file.
I prefer this AF system to the overly complex system of the 5D Mark III that takes too long to configure. With the 6D, I've got my shot, while with the 5D Mark III, I can miss shots while arguing with its AF system's innumerable settings.
Shot with the superb Canon 35mm f/1.4 L, AF is always dead-on, especially at f/1.4. Bravo!
I prefer the thumb-nubbin selector of the 5D Mark III, however I prefer the overall speed and simplicity of the 6D's AF system.
The 6D's AF system comes set perfectly out of the box. Most people won't need to fiddle and can just go shoot.
There isn't much to set with the AF system, and I also love that one of the options is to allow only infra-red AF assist lights while disabling a flash from popping for AF assist. Bravo!
Ergonomics
The 6D feels great in-hand, just like the 5D Mark III.
Ergonomics are great, especially compared to Nikon. The 6D is pretty easy to shoot with one hand, while Nikons, like the D600, demand we always use our second hand to hit PLAY, MENU and other buttons. Yes, the 6D's MENU button is on the left, but I program mine to duplicate the MENU button on the SET button in the middle of the big rear knob.
Oddly, the 8-way thumb controller isn't as good as the 8-way thumb nubbin of most other Canon DSLRs. This is because the nubbin makes it easy to go back and forth, while we need to dance our thumb up and over the center button to go back and forth on the 6D. If you work as hot and fast as I do, this wastes time.
For long exposures, the red CARD ACCESS LED on the back lights while the shutter is open. This makes it easy to know when to come back out in the cold when the camera is done a time exposure.
The lack of an auto brightness control on the LCD is a luxury on the 5D Mark III that once sampled, becomes a necessity. I miss it on the 6D; I have to bump it up outdoors and then back down indoors or at night.
Thank goodness, the PLAY button is on the right side so we can hit it with our shooting hand. The 6D may be the world's first full-frame DSLR to do this, and its about time (I tweak my 5D Mark III to replicate this).
Better than the flat buttons of the 5D Mark III, the MENU and INFO buttons are a bit humped, so they are easier to find by feel because they stick out a little bit more.
Oddly, the C1 and C2 markings are not legible on the top dial because they are black on silver on black. You have to squint a bit if you're outdoors; they are easier to see under diffuse light.
The depth-of-field button is on the correct side, but oddly placed as if it's on the lens barrel, so you can't hit it with your shooting hand. Worse than the 5D Mark III, you have to use your second hand cradling the lens to tap the depth-of-field preview button.
The top LCD backlight is a good orange color. The top buttons thank goodness now only do one thing at a time, not two.
Silent Modes
In its regular mode, the 6D is just a little bit quieter than the 5D Mark III.
The Silent mode of both cameras is much quieter. In their Quiet modes, the 6D and 5D Mark III are about as loud as each other, but the 6D is a tad slower.
The Silent mode is much better than the Nikon D600's Silent mode, however the 6D does slow just a little bit from the 5D Mark III.
In the 6D's Silent mode, there is a tiny delay before the shutter fires. This is a little faster in the 5D Mark III.
Mechanics
Canon doesn't screw around; the 6D is made as well as the 5D Mark III.
It's drizzle resistant, but if you're crazy enough to shoot in a typhoon, you'll want a 1D X.
The top and bottom are plastic. The top has to be plastic so the Wi-Fi and GPS antennas can work.
The middle parts are metal.
Sharpness
Yes, its sharpness is limited only by your lens and photographic skill.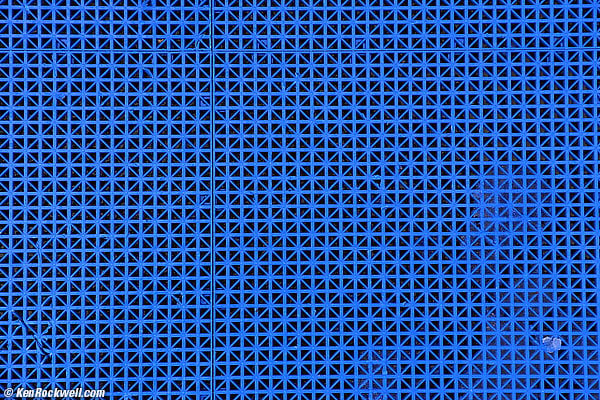 Blue Rubber. 6D, 24-70 2.8 II at 70mm, f/5.6 at 1/250, Auto ISO 100. original © file.
Lines. 6D, 24-70 2.8 II at 24mm, f/5 at 1/125, Auto ISO 100. original © file.
Ample Cropping Ability
With over 20 Megapixels, you never really need a telephoto lens.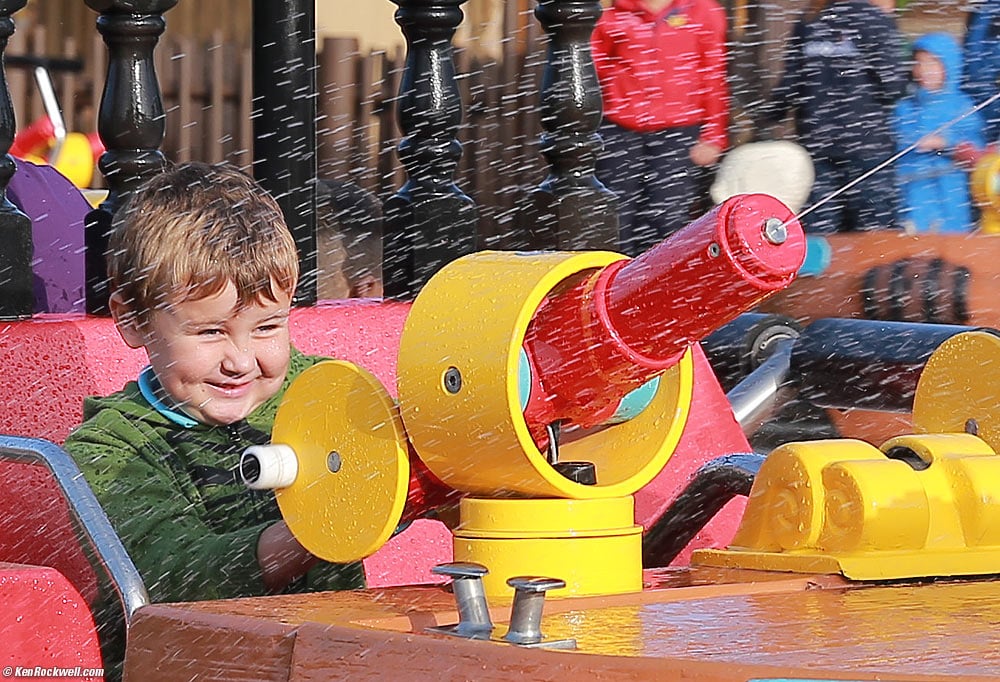 Ryan on the squirter ride. (Canon 6D, Canon 24-70mm f/2.8 L II.) bigger.
which was cropped from this: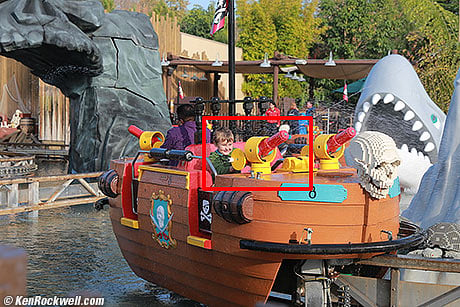 Full image from which above was cropped — note red crop box.
Sharp in the Dark
High ISOs are clean, sharp and colorful.
They are also easy to use; AUTO ISO is easy to program to call-up high ISOs exactly as you want them. AUTO ISO allows a wide range of lowest shutter speed settings, or one AUTO setting where the slowest shutter speed is set based on focal length. There is no ability, as there is on Nikon, to shift the automatically selected lowest AUTO ISO shutter speed away from the 1/focal length convention.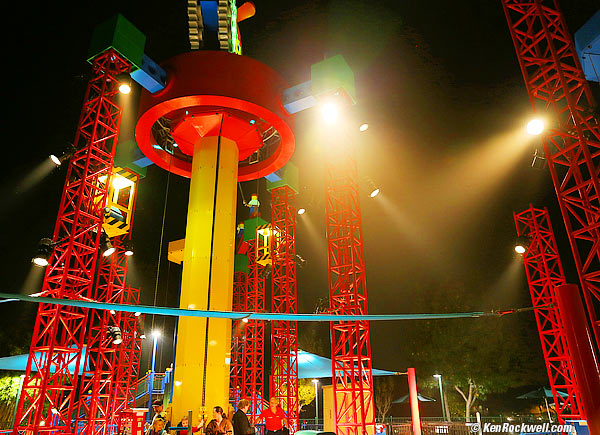 Bremen, Germany, hand-held at night. (mit 24-70/2.8 L II at 24mm, f/2.8 @ 1/40, pushed to higher ISO in Photoshop.) full resolution.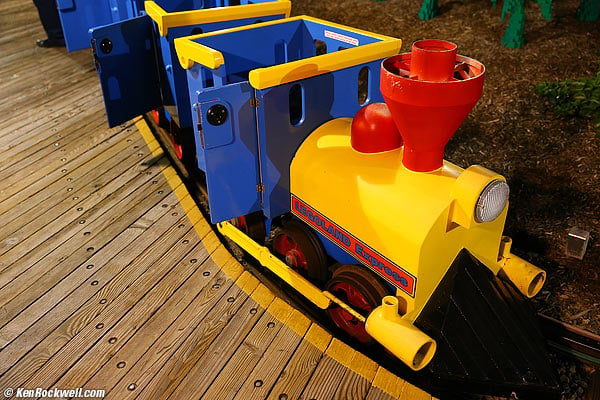 Express at ISO 2,000, hand-held at night. Look at the clean colors, and great auto white balance under mixed mercury and fluorescent light! (24-70/2.8 L II at 35mm, f/2.8 @ 1/30, Auto WB, 6 sharpening, +3 saturation.) original © file.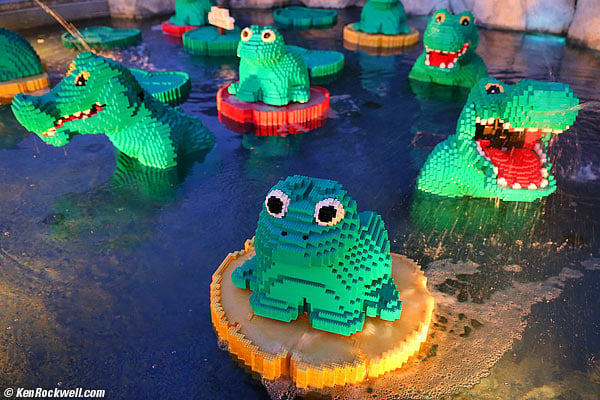 Frogs at ISO 4,000, hand-held at night. (24-70/2.8 L II at 30mm, f/2.8 @ 1/30, focus on front frog, 6 sharpening, +3 saturation.) original © file.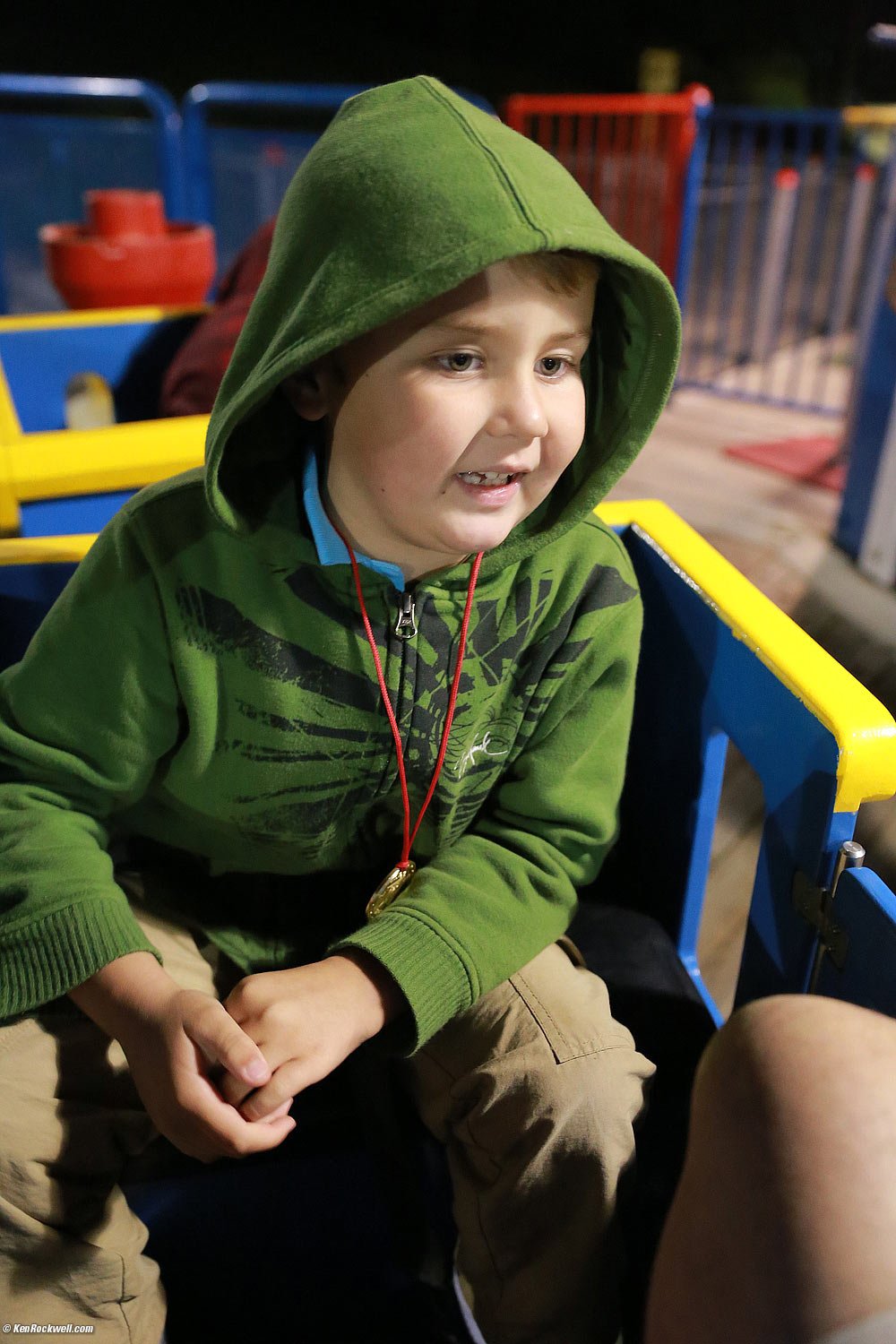 Ryan at ISO 10,000, hand-held at night. (24-70/2.8 L II at 31mm, f/3.2 @ 1/125, 6 sharpening, -2 contrast.) bigger. original © file.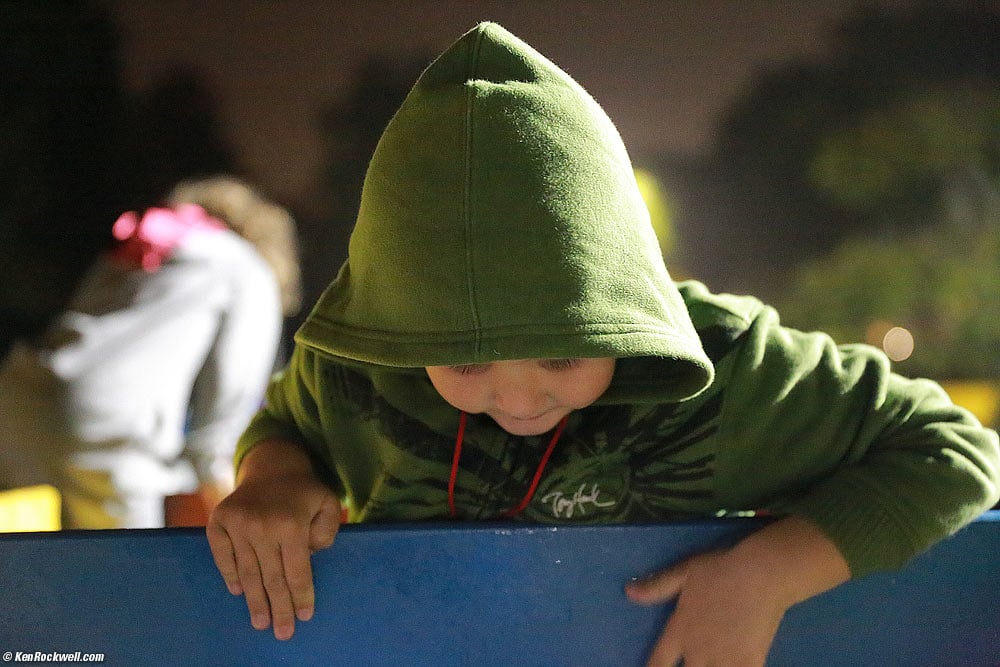 Ryan at ISO 25,600, hand-held at night. (24-70/2.8 L II at 59mm, f/2.8 @ 1/60, 6 sharpening, -2 contrast.) bigger. original © file.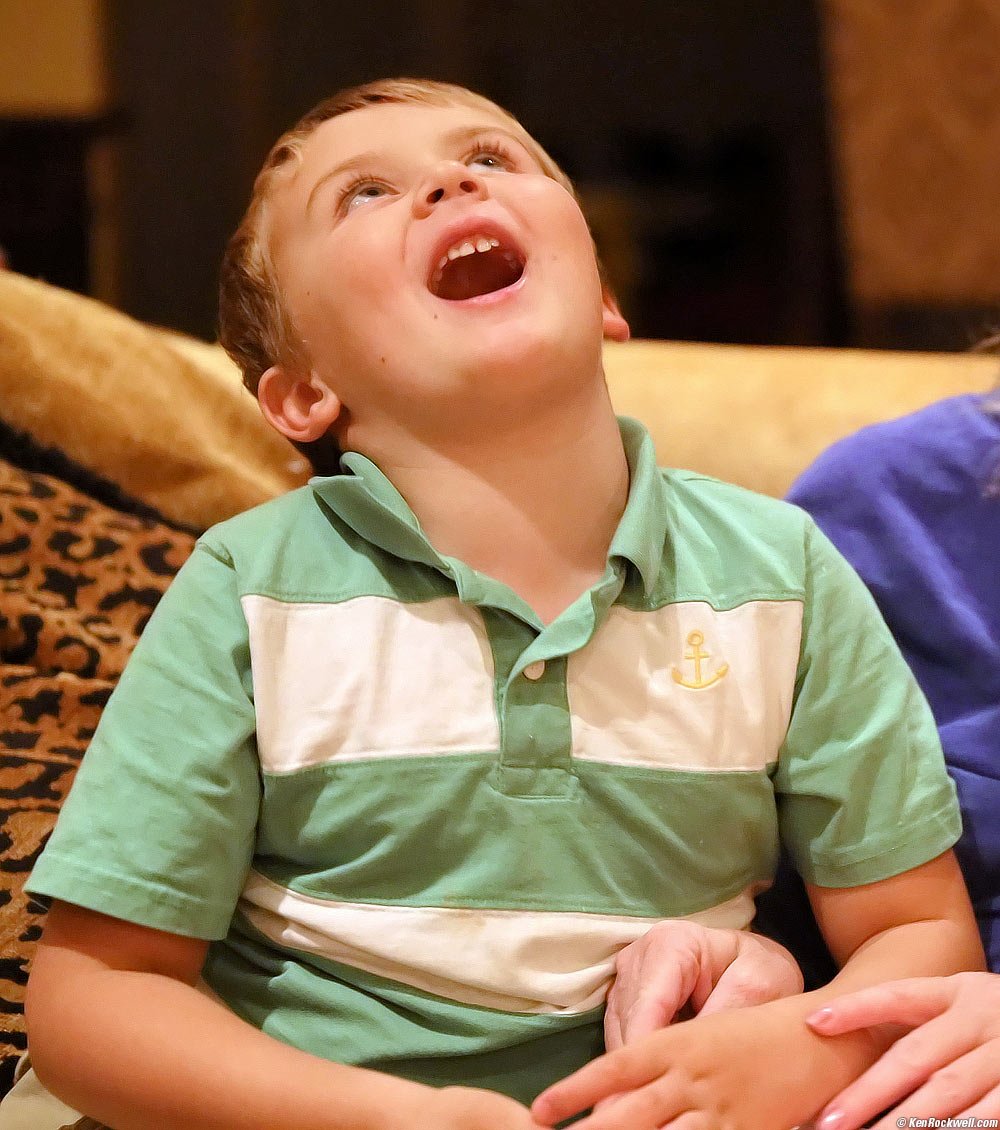 Ryan thinks "Elf on the Shelf" is hilarious. (cropped from horizontal Canon 6Dshot at Auto ISO 6,400, 75W PAR Halogen lighting, color-corrected and lightened in Photoshop CS6, Canon 24-70mm f/2.8 L II at 70mm at f/2.8 at 1/60.) bigger.
Exposure
Exposure is good but not perfect.
Depending on the subject, I may need from -2/3 to 0 exposure compensation.
Exposure, in Evaluative mode, is very dependant on the selected AF area.
Color Rendition
As expected, color rendition is superb. People look great, and when cranking-up the saturation for nature and landscape, gives exactly the results I demand right out of the camera. Bravo!
Auto White Balance is decent, but far from perfect. Often tungsten shots are too red (not too orange, but too red), shade shots are too blue and under fluorescent light, too darn green. In other words, the Auto WB setting is rather conservative in pulling white balance away from daylight.
Tones and Values
Oddly, shadows have a little more contrast than my other Canons.
No big deal, but I set -2 for contrast for people pictures, instead of leaving it at its default of 0 as I do on my other Canons.
Data
Oddly, Canon still can't show more than 1,999 shots on the top LCD. Nikon is smart enough to show "32.1k" if it wants to show 32,100 shots, while Canon gets stuck at 1,999.
The 6D's Auto ISO settings don't appear in Media Pro, so I use Canon's free included Digital Photo Professional to read shooting data like color and contrast settings.
The 6D can't correct lens distortion while shooting. You can do this later if shot in raw, using either Digital Photo Professional or the camera's menus to save a corrected file. If using Digital Photo Professional, view the image you want to correct, right-click and select TOOL PALETTE, then the LENS tab.
Wi-Fi
Get the free EOS app, set up Wi-Fi so the camera can talk to your iPod/iPhone/iPad (even I figured it out), and it's then easy to browse through the photos on your camera's card using your iDevice.
See one you want to mail? Just tap the envelope icon (different from the box with an escaping arrow icon we expect), and the image appears in your Mail program. Address it and send!
One gotcha is that your iDevice is talking to the 6D's wireless network, which isn't connected to the Internet. To send the mail, your data plan on a phone may or may not work at the same time.
I don't use a data plan — I only use Wi-Fi on all my devices — so no big deal; my devices hold my unsent mail in my outbox and send it all automatically as soon as I'm connected again to a regular Wi-Fi network.
In field use, this probably will be transparent: I'll set my device to talk to my camera, and when I get back in range of Wi-Fi, my device will grab the new connection and send everything seamlessly — even if my iDevice is off!
More great news: someone smart made the app so that the emailed images are perfect. They are 1,920 x 1,280, are super-sharp, and each is only about 500kB of data. Brilliant!
Wi-Fi also can run EOS Remote control; it essentially replaces the expensive WFTs used by older cameras.
GPS
Once GPS locks-on (it may take a while when new, since it still thinks it's in Japan), it reliably marked locations in three dimensions.
Playback
The controls work to scroll diagonally.
It's easy to swap images while zoomed to compare sharpness.
It can take a fraction of a second for a newly-selected image to redraw sharply. Sometimes a freshly selected image will be softer for an instant. Canon cameras have done this for ever; I have no idea why 10 year old Canons are just as slow here.
Battery and Power
The 6D uses the same battery and charger as the 5D Mark III.
I get about 1,000 shots or more on a charge — compare that to less than 300 shots per charge from mirrorless (read gutless) cameras.
Compared         top
Intro   Specs   Accessories   Lenses   Performance   
Compared   Usage   Recommendations   More
Compared to the older 5D Mark II which sells for about the same price, the 5D Mark II lacks the electronic lens aberration correction of the new 5D Mark III and 6D. I'd pass on the 5D Mark II; I find this electronic correction to be a huge help in getting better images with all my lenses.
Usage         top
Intro   Specs   Accessories   Lenses   Performance   
Compared   Usage   Recommendations   More
The AF system is easy, and set well right out of the box. With most lenses, hold the camera's AF-ON button to lock autofocus. Easy!
Hit INFO a few times to call up the electronic level.
If a big screen of settings won't go away as you're trying to shoot, press the INFO button again.
I leave the LCD brightness as-is indoors. I knock it up a click outdoors.
I set the playback histogram to RGB instead of monochrome.
I program my SET button to duplicate the MENU button for one-handed settings.
GPS could run down your camera if left on, since it's always updating at the intervals you set (default: 15 seconds). I didn't play with it enough, but it might make sense to turn the 6D OFF when you're not using it. I leave all my cameras ON, since that way they're always ready and don't run down the batteries — but I don't use GPS.
I set my C1 spot for scenic shots, and C2 for family shots. I set them thusly:
| | | |
| --- | --- | --- |
| Custom Shooting Mode | C1 | C2 |
| Used for | Places and Things | People |
| Quality | L normal (stair icon-L) | S normal (stair icon-S) |
| Auto ISO | Auto, 25,600 max | ۱/۱۲۵, ۲۵,۶۰۰ max. |
| Picture Style: | | |
|   Sharpening | ۶ | ۶ |
|   Contrast | ۰ | -۲ |
|   Saturation | +۳ | ۰ |
| WB Shift | A2 | ۰ |
| AF mode | One Shot | AI Focus |
| AF Sensors | Center only | Auto (all) |
| Advance mode | Silent continuous* | Continuous* |
* I use Silent Continuous to lessen my conspicuity while in public. The shutter is very slightly slower, so I often use regular Continuous when snapping fast-moving people, but always Silent if needed.